[SG] Beef Yakiniku Dining Yakiniquest | memorable wagyu meat that would lure us back for more!
Monday, March 02, 2015
Looking back the last time I had
Yakiniku
'grilled meat' in Japan was more than two and a half years ago. It is amazing how time flies so quickly after travelling to UK, Malaysia, then back to UK, Hong Kong and finally settled now in Singapore for more than a year. Having maintained our food blog all these while isn't at all an easy task especially given that we all have work commitments. But what keep us going is the love for food and the pursue of infinite food knowlege.
I was very inspired when the co-founder of YAKINIQUEST Ishida San sat down and shared with us how they started this restaurant in his fluent English. There were actually five anonymous Yakiniku enthusiasts who created a website called
www.yakiniquest.com
in 2004. It documents their 'questing' adventures for the best Yakiniku experience across Japan since 1998. Having visited more than 100 Yakiniku restaurants each year for 15 years now, that translates to more than 1500 Yakiniku restaurants in total, an impressive record indeed! They are also authors of several books, contributed articles to gourmet books and magazines, appeared on radio and TV, and collaborated with Japan National Tourism Organisation to encourage Taiwanese tourists to visit Japan.
In order to achieve the aim of disseminating the Yakiniku knowledge and culture to the world, they chose Singapore as the first destination to open Beef Yakiniku Dining Yakiniquest. With that, they are also looking to open in USA and other Asian countries.
Okay enough talking and let the taste buds do the work!
The eight-course Omakase Menu is priced at S$98++ per pax and Omakase Degustation Course at S$120++ per pax. The omakase menus are subject to change daily and a la carte options are also available when course has been ordered.
Starter | Assorted Japanese Pickles
The meal started with some pickles such as Chinese lettuce and cucumbers to whet our appetite.
Starter | Daikon Radish with Miso
Following the pickles, we were served the warm daikon (white radish) topped with miso mixed in wagyu beef bits, a teaser just enough to prepare our taste buds for the savoury dishes to come.
Starter | Japanese Salad
A decent salad mixed with refreshing tangy dressing, and topped with crunchy slices of wanton sheets, which tasted clean and fresh.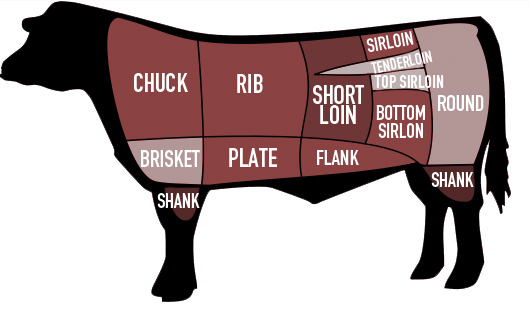 What makes us anticipate this Omakase course is that you get to indulge and try out different parts (especially some rarer cuts) of their premium quality wagyu beef imported straight from Japan! Until Ishida San brought the sculpture to the table and explained to us of which cuts we were eating, did we realise the complexities and various conformations of a beef that can be served! Another fruitful lesson!
Sashimi | Wagyu in Noodle Style
To be honest, I haven't tried beef sashimi as it looks so pinkish and raw, perhaps even more so than the usual beef tartare which would have been cured by the seasoning. Trusting the quality of the wagyu of this restaurant, I decided to open up and take a bold attempt.

The thinly sliced flesh, paired with the clear soy sauce broth melted in my mouth instantly. There was also the white yam at the side which interestingly added a chewy texture to it.
Sashimi | Wagyu Sashimi
I was surprised by the buttery, fresh, sweet with a subtle tang after-taste that lingered on my palate given by the tender fine-marbled wagyu sashimi, it didn't taste raw afterall while pairing with their top-notch soy sauce and wasabi.
Grilled Meat 1 | (From Right to Left) Chateaubriand | Portion of Arm | Negi Tan (Tongue with Leak)

Chateaubriand means tenderloin fillet located between short loin and sirloin, under the ribs. We were told that it is the most expensive cut of a beef because it is the most tender portion as this muscle does the least amount of work. Every part of the red meat carries varied levels of flavour intensity, juiciness and tenderness; while some could be more chewy and bouncy, others might taste slightly more beefy and juicy. The good thing was the premium quality meat required little seasoning, just salt and pepper would do to enhance its natural flavours.



Grilled Meat 2 | Wagyu Sukiyaki Style (Left) | Nakaochi (Rib Finger)
The wagyu sukiyaki style probably caught my most attention, as I loved the whole combination of the grilled beef dipped into this sweet soy sauce based blended with an orangey huge egg yolk soup. I would keep this sauce for later dipping use again!
Wagyu Sushi (Not part of the Omakase menu)
A nicely sliced wagyu sashima on top, however it would be better if there was more rice to the sushi.
Freshener | Gazpacho
After a round of greasy and flavoursome tasting, the thoughtful chef prepared this tomato based Gazpacho for us to freshen up our taste bud to continue with the omakase.
Grilled Meat 3 | Misuji (Top Blade)
This is quite an interesting cut that I have yet to try! Easily recognisable with a line of thin bone in the centre, this thin flap of meat is a portion of the chuck outside the shoulder blade. A well-marbled meat that you could taste the difference in texture between the two sides after grilled. Loved the slight chewiness and the sweet flavour brought together by the condiment, the cut is also the second most tender part after tenderloin.
Grilled Meat 3 | Rib Eye Steak with Ponzu
While writing this, I started salivating just from this picture. Be careful not to overcook all these lovely wagyu meats especially this with its exquisite and intense marbling streaks. The rib eye steak cut is sliced from the centre best portion of the rib primal of a cow, personal preference would be to cook it until medium rare to retain the moisture and juiciness of the beef. But if you prefer it more cooked, feel free to do so as the tenderness of the meat would allow the compromise. The rib steak flawlessly paired with the refreshing, tangy ponzu sauce, superb!
Closer Dish | Choice of Wagyu Curry Rice / Hiyajiru / INANIWA Noodle with Ice
The wagyu bits from leftovers of the major cuts were used to cook the curry rice, in order to avoid wastage of such premium product. Adjusted to local taste, this was a fragrant, comfort carbo food after consuming much proteins.
Beneath the crushed ice was the silky smooth, thin Inaniwa udon, attentive owner created this icy dish to cool off the grilled and heavy umami flavours on our taste buds.
Dessert | Roasted Green Tea Ice Cream / Black Sesame Ice Cream
Freshly made by themselves, the roasted green tea ice cream which is Hojicha in other word had still carried a tinge of charred fragrance. Both ice creams were well executed with its velvety texture, robust green tea and black sesame flavours, yum!
There's no hesitance to say that Japanese restaurant usually has excellent and courteous attitude when it comes to customer service. I could see the seriousness of the owner in training his staffs during the meal. So do feel free to raise any questions to the servers if you're in doubt, I'm sure they are more than welcomed to explain each and every part to you. Unlike other yakiniku restaurants, Yakiniquest uses charcoal for grilling, so you can be assured of the flavour of the quality wagyu beef. Enticing and scrumptious food with comfort sofa seats in a Japanese casual setting, I'm sure I will be back very soon!
This is the chef who helmed the kitchen!
Overall Verdict: 8.5/10
Beef Yakiniku Dining Yakiniquest
48 Boat Quay
Singapore
P.S. Special thanks to Geraldine for the invite and

Beef Yakiniku Dining Yakiniquest

for having us!